Just like an on-premise Exchange platform, connectors are central for managing the mail flow to and from Exchange Online. Exchange Online do not by default require custom connectors, Microsoft have already setup all the basic, required connectors for standard mail flow to work, when the service is initially activated. At some point, many organizations will need some sort of control of the mail flow, and this is where the Connectors interface is used.
Up until now, making connectors for handling mail flow in Exchange Online, presented a range of technical conceptions specifically regarding selecting the correct direction, Inbound or Outbound, and later configuring type, connector security, domain restrictions, scope and IP addresses. Without a through understanding of each selection and the consequence of each, it could be easy to make misconfigurations.
Fortunately, Microsoft recently introduced a completely redesigned process for managing mail flow connectors in Exchange Online. Although the back end still works just like before, the new user interface provides a more intuitive question-based process with guidance for each selection, and as well as checks and validation before final completion.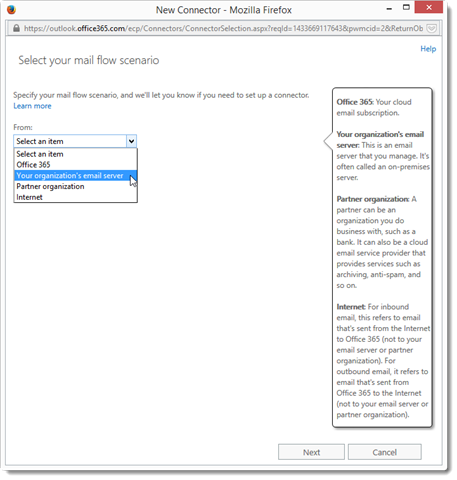 As usual, the common senders and recipients involved in Office 365 mail flow are:
| | |
| --- | --- |
| Office 365 | cloud_user@mycompany.com |
| Public | external_user@othercompany.com |
| On-premise mail service | internal_user@mycompany.com |
| Partner | remote_user@contractor.com |
| E-mail Service Provider | Antispam, massmail, archiving, etc. |
Many organizations need to use either EOP for anti-spam/anti-virus scanning, or a relay from on-premise applications, scanners (print-to-PDF), multifunction devices, or have partners that need to send mails on you behalf.
All these scenarios are supported in the connector interface, which is accessible from the Office 365 admin center –> ADMIN –> Exchange –> Mail flow –> Connectors.
Click on the "+" sign to create a new connector
As mentioned earlier, Microsoft already have created connectors in Exchange Online to handle basic mail flow (to and from Internet), so creating a connector From Office 365 / To Internet, isn't required.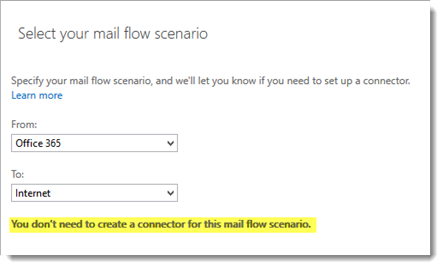 To see a list of scenarios where connectors are and are not required, click on the shortcut check to see if you should create a connector, on the Connectors page.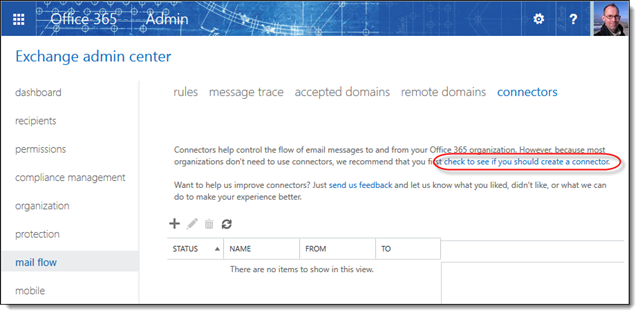 Note:
Together with the updated guidance for making Connectors, the guidance for configuring SMTP access in Exchange Online for multi-function devices and applications, has also received a major update. You can check the updated information here: How to set up a multi-function device or application to send email using Office 365
References:
Announcing a new way to create connectors in Office 365
Configure mail flow using connectors in Office 365
How to set up a multi-function device or application to send email using Office 365