Microsoft have started the rollout of workload-specific admin roles in Office 365, which allow Office 365 administrators to assign tailored administrative privileges for Office 365 services.
Until now, Office 365 administration has been limited to one administrator role; Global Administrator, and all Office 365 administrators would require the Global Administrator role, even for those just require the SharePoint or the Exchange Administrator role. With the new delegation options, the SharePoint Online admin can manage SharePoint site collections, configure SharePoint settings such as the organizations external sharing policy and access SharePoint Admin Center for additional SharePoint capabilities, but the SharePoint Online admin does not have access to other Office 365 service controls and settings, such as mailbox configuration, transport rules and other non-SharePoint related settings.
Assigning limited admin role must be done by the global administrator, who select the relevant users from the Active users list.
The administrative roles can be accessed if you click either Edit User Roles or Edit.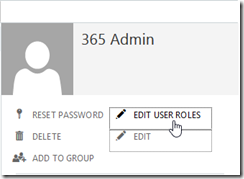 Selecting Edit User Roles opens a new pane, where the available roles are listed, including the new workload-specific admin roles:
Billing administrator
Exchange administrator
Password administrator
Skype for Business administrator
Service administrator
SharePoint administrator
User management administrator
Select the Limited Admin Role option to display the list of all the Office 365 admin roles.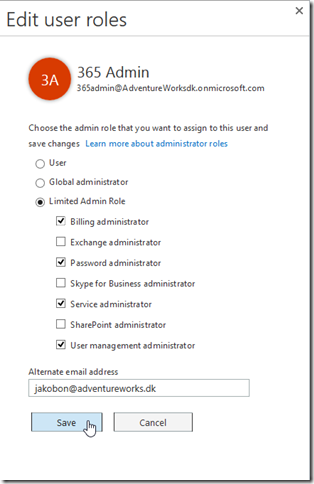 Note, that that you need to specify an non-Office 365 e-mail address as the Alternate email address, to ensure that you can regain access if the admin credentials for the tenant are missing.
You can select Edit to assign admin roles, and from the feature list, click on Roles and then select the Limited Admin Role option to display the list of all the Office 365 admin roles.
Enable the relevant admin role(s), enter a valid e-mail address and click Save.
Rollout:
Initially, Microsoft started the rollout of workload admin roles in March 2015 to a small group of customers. During the rollout, it was discovered that the reporting feature is not working as expected. A fix was identified and the rollout for the remaining customers has been resumed on 11. June 2015.
References:
More control over data access with workload-specific admin roles
Assigning admin roles in Office 365