The Exchange hybrid team have released the latest version of the Hybrid Configuration Wizard (HCW). This new version is called the Microsoft Office 365 Hybrid Configuration Wizard, and is the first version that is developed as a standalone, downloadable application, instead of being part of the on-premise Exchange server product.
The new HCW provides great improvements on several areas, including:
Always up-to-date hybrid configuration

Will download the latest HCW version every time it is run.
HCW is no longer tied to Cumulative Updates.
Future integration with the "First Release" option.

Improved error handling:

More descriptive title.
Error code included.
Better error description.
Association with relevant KB or TechNet articles.
"Open Log File" link to HCW log file.
Link to open on-premises and/or Exchange Online PowerShell.

Addressing TST proof string issue
Missing transport certificate in HCW
Improved method for checking federation information.
OAuth Integration.
More efficient Hybrid experience
Many more…
NOTE:
Running the new Office 365 HCW require Exchange 2013 CU8 or newer.
Accessing the Hybrid Configuration Wizard has not changed, and is still in the Exchange Admin Center under Hybrid.
Enabling the HCW opens the new browser-based HCW landing page: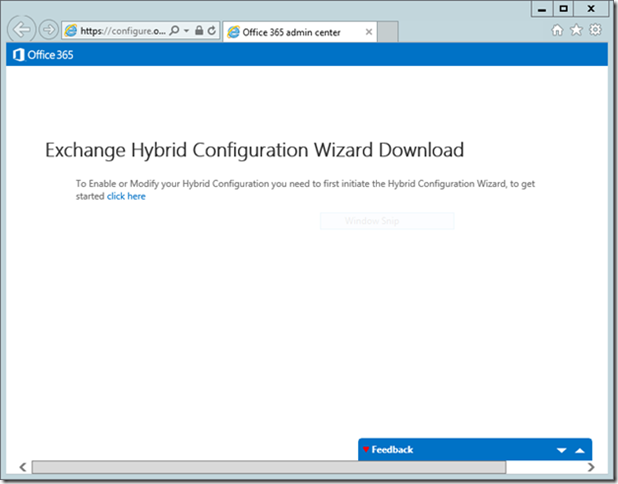 For a detailed tour of the different paged in the new improved HCW, this article from the Exchange Team will guide you through the new process:   Introducing the Microsoft Office 365 Hybrid Configuration Wizard
Download the Office 365 Hybrid Configuration Wizard:   http://aka.ms/TAPHCW