As the use of Office 2016 has started to gain momentum, a number of organizations have experienced cases where Outlook 2016 take extraordinary long time to setup a new profile with a hosted Exchange 2010/2013 solution, like Exchange Online.
The situation is furthermore complicated when the option to manually enter the Exchange server settings is removed in Outlook 2016.
Common for these cases is that the internal autodiscover CNAME record is added in a split-DNS zone and resolves to autodiscover.outlook.com – straight out of the Office 365 domain registration wizard.
Digging deeper, the Test E-mail AutoConfiguration reveals that the autodiscover process is delayed by a series of (16) queries and the subsequent timeout for autodiscover settings from the root domain, like http://adatum.dk/autodiscover/autodiscover.xml.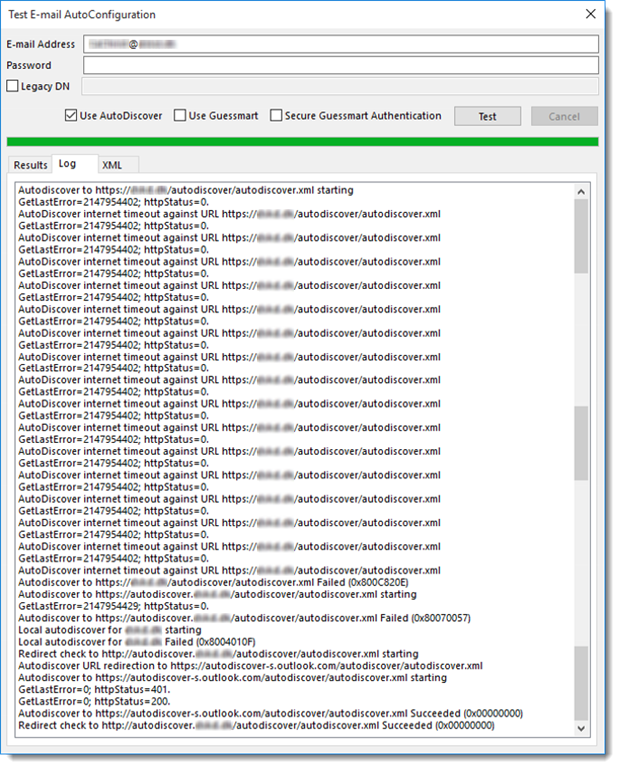 Most organizations use a autodiscover CNAME or A record to resolve the autodiscover address, which is also the recommended solution for both on on-premise Exchange deployment and when all mailboxes are placed in Exchange Online.
To workaround this issue, until a more permanent solution can be applied, you may use the following Registry settings to force Outlook to bypass the root domain discovery and redirect to the autodiscover CNAME or A record to resolve the address for autodiscover settings.
Windows Registry Editor Version 5.00
[HKEY_CURRENT_USER\SOFTWARE\Microsoft\Office\16.0\Outlook\AutoDiscover]
"ExcludeHttpsRootDomain"=dword:00000001

This forces Outlook to bypass the initial root domain queries and get the autoodiscover settings with minimal delay.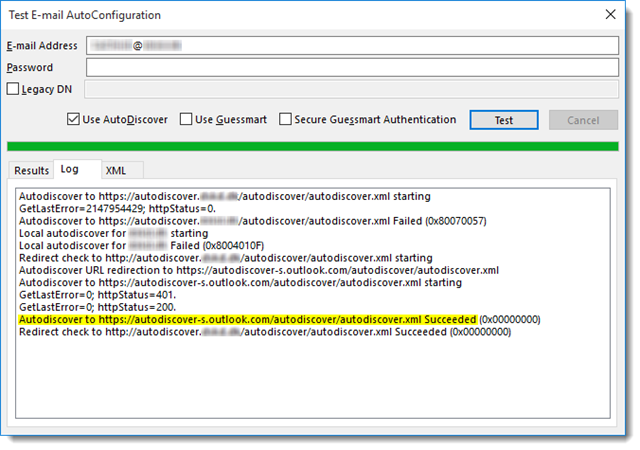 For domain-joined Windows clients, you may use the Office 2013 Administrative Templates or Office 2016 Administrative Templates to apply this workaround on multiple computers.
Download and extract the files, and then copy the content of the ADMX folder to the PoliciesDefinitions folder in the SYSVOL domain share.
Then create a new GPO, or edit an existing GPO, and go to the following setting:
User Configuration -> Policies -> Administrative Templates -> Microsoft Outlook 2016 -> Account Settings -> Exchange -> Disable AutoDiscover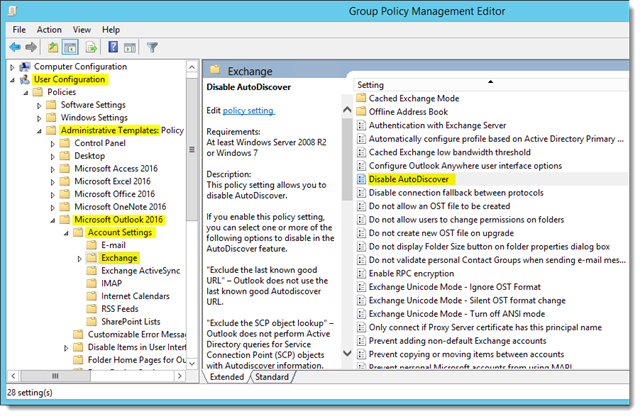 Set the Disable AutoDiscover setting to Enabled
Enable the option Exclude the root domain query based on your primary SMTP address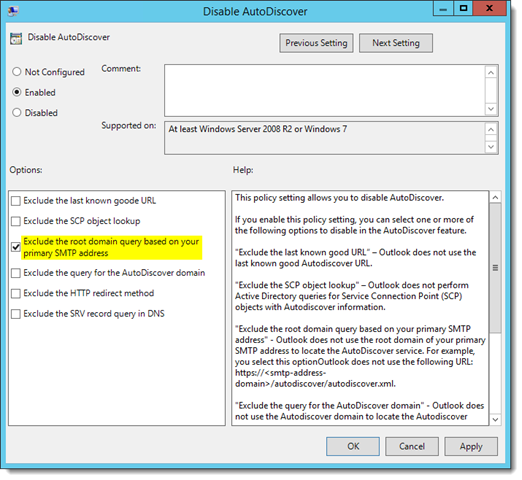 Click OK