Based on the Office 2016 update model, that Microsoft released last year, Office 365 is now introducing the option to control how often updates are introduced to the Office 365 Client apps. Note that the ability to change the update channel only applies to 2016 editions of Office 365 ProPlus, Office 365 Business, Project Pro for Office 365 and Visio Pro for Office 365.
The new option, allows organizations to choose between two update schedules "Current Branch" and "Current Branch for Business" or "Deferred Channel". This reduces the frequency of feature changes for the Windows desktop apps, for 4 months and a maximum of 8 months, which grants developers and users addition time for ensuring proper compatibility of solutions, before new versions are rolled out across the organization.
Office 365 Admins can change the setting in Office 365 Admin Center, under Services Settings -> User Software
Under How often do you want users to receive feature updates for Office 2016 apps?, select the preferred update batch.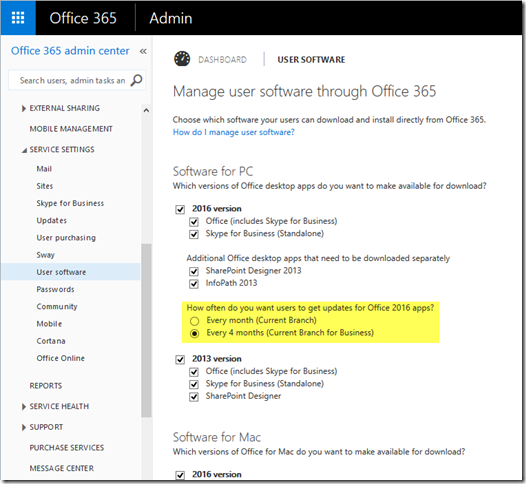 Changing this setting will take effect from February 23, 2016.
In addition to the update schedule, Office 365 Admins have the option to filter which Office version users can see and download directly from the Office 365 User Software Page – https://portal.office.com/OLS/mysoftware.aspx.
References:
https://blogs.office.com/2016/02/09/deferred-channel-build-now-available-for-the-office-365-client-apps/